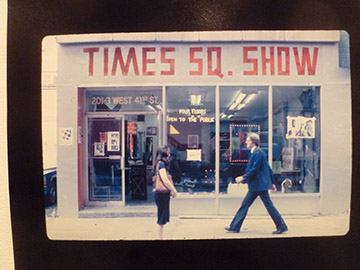 In Nu te zien reizen museumdirecteuren Ralph Keuning (de Fundatie), Cathelijne Broers (de Hermitage), Ann Demeester (Frans Hals Museum), Suzanne Swarts (Museum Voorlinden) en Bart Rutten (Centraal Museum Utrecht) het hele land door om je niet te missen tentoonstellingen te laten zien.
Gisterenavond, 26 februari 2019, was de beurt aan Cathelijne Broers, directeur van de Hermitage in Amsterdam.
Op enthousiaste toon beval ze een tentoonstelling aan van Jean-Michel Basquiat.
Op de site van NPO START staat te lezen dat: "Directeur van de Hermitage Amsterdam, Cathelijne Broers, duikt in de New Yorkse kunstscene van 1979. Daar maakte een jonge graffitikunstenaar genaamd Jean-Michel Basquiat de overstap van de muren van de stad naar internationale faam. Hij overleed al op zijn 27e aan een overdosis, maar liet zijn sporen na in de hedendaagse kunst. In Schunck in Heerlen is het vroeger werk van deze autodidact en zijn tijdgenoten als Nan Goldin en Keith Haring te zien op de expositie Basquiat, The Artist and His New York Scene."
Het staat er overduidelijk: "een jonge graffitikunstenaar genaamd Jean-Michel Basquiat".
Cathelijne Broers, de opgewonden 'expert' in Nu te zien, snelt langs de kunstwerken van Basquiat en doorspekt haar betoog met imponerende Engelse kreten, want mevrouw is een mevrouw van de wereld en weet natuurlijk verrekte goed waar ze het over heeft, en dat zullen de kijkers naar dit leuke programma dan weten ook.
Helaas wordt de jonge graffitikunstenaar Jean-Michel Basquiat, door Cathelijne omgetoverd tot een loodzware spuitbusschilder die zich, vechtend tegen de zwaartekracht van het ene kunstwerk naar het andere sleepte, want talenwonder Broers tovert de man om tot een jonge gravitykunstenaar.
En dat niet één keer, maar keer op keer, heel consequent, tijdens de hele uitzending.
Je vraagt je af: was er geen eindredacteur, een voorlichter, een slimme geluids- of cameraman die mevrouw corrigeerde – het programma werd vooraf opgenomen – en voorstelde de opnames over te doen en van die zwaarwichtige gravitykunstenaar weer de lichtvoetige graffitikunstenaar te maken die Basquiat was?
Ik heb me door de uitzending gesleept, rood van ergernis over iedere keer weer dat gravity van mevrouw Broers.
Dit gestuntel van Broers roept plaatsvervangende schaamte op. Je durft bijna niet naar Heerlen af te reizen om die tentoonstelling te zien.
Jean-Michel Basquiat draait zich om in zijn graf.
Bovenstaande tekst stuurde ik naar de Hermitage omdat ik vind dat je niet over iemand kan bloggen zonder die persoon, organisatie te informeren.
Dezelfde dag nog mocht ik een onthullend antwoord ontvangen:
Reactie – Hermitage Amsterdam

  Contact@hermitage.nl

4:59 PM (14 minutes ago)

Reply
Geachte heer Cremers,
Dank u wel dat u de moeite heeft genomen om ons hierover te berichten.
In uw klacht refereert u aan het tv-programma Nu te zien waarin diverse museumdirecteuren hun persoonlijke visie over tentoonstellingen in Nederland delen.
De uitzending die uw klacht betreft gaat over museumdirecteur Cathelijne Broers van de Hermitage Amsterdam. U geeft hierbij aan dat u niet begrijpt dat zij niet gecorrigeerd werd in haar woordkeus tijdens de opnamen.
Ik kan u hierin het beste adviseren om contact op te nemen met de redactie van het programma Nu te zien van AVROTROS. Zij zijn eigenaar van het programma en hebben deze opnamen inhoudelijk bedacht, gescript en uitgevoerd.
Cathelijne Broers had daarin geen bijdrage, zij voerde de presentatierol.
Ik hoop dat ik u hiermee toch naar uw tevredenheid heb kunnen beantwoorden.
Een prettige avond gewenst.
Met vriendelijke groet,
Joanne Droogleever Fortuyn-Gloudemans
Marketing & Sales
Hermitage Amsterdam
P.O. Box 11675 – 1001 GR Amsterdam
Visiting address Amstel 51 – 1018 EJ Amsterdam – The Netherlands
T +31 (0)20 530 87 55; F +31 (0)20 620 01 05
facebook.com/hermitage.amsterdam
Hier moest ik wel op reageren:
Wat een ongelooflijk laf en ontwijkend antwoord.
Cathelijne Broers is natuurlijk wel verantwoordelijk voor het feit dat ze graffiti voortdurend uitsprak als gravity.
Kom op zeg, het zal toch niet zo zijn dat jullie directeur als een mak lammetje de teksten van anderen oplepelt.
De fout zat niet bij de door Nu te zien, aan mevrouw Broers voorgelegde tekst, maar bij haar totaal verkeerde uitspraak van het woord graffiti.
Ik vraag mij echt af of u mijn tekst wel gelezen heeft en het TV-optreden van uw directeur gezien heeft.
Ton Cremers